The recent cold weather has not been kind to the roads and in some cases it has led to potholes and an uneven surface on the roads.
Potholes and uneven surfaces can be dangerous causing a hazard for pedestrians, cyclists and car drivers possibly leading to injury and damage.
Lambeth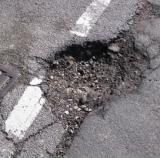 carry out regular inspections of the borough's roads on a rolling 13 week programme but if you spot a dangerous pothole, or a damaged or uneven road surface in the meantime please contact the council to report the problem.
Either email
TandHCallCentre@lambeth.gov.uk
or phone 020 7926 9000 to talk to the Roads team. The Council will repond to urgent problems within 24 hours and priority issues within three days. Further information on Lambeth's pothole repair service is available on the
Roads section of the Lambeth website
If you spot a problem on the red routes in the local area - that is roads such as Brixton Road, Camberwell New Road and Clapham Road - please report the matter to Transport for London. You can do this using an
online form
or phone 0845 305 1234.
Cyclists' organisation CTC run a website called
Fillthathole.org.uk
which allows users to report potholes and check on the progress of repairs.
Vassall Action Team member Adrian Garden says "On my walks around Vassall Ward I always keep a look out for problems. I have reported the problems I have found on the roads and pavements to Lambeth so that it can be dealt with. I then keep an eye out to make sure its repaired and I'm pleased to say that in most cases the problem has been fixed within a few days."
Edited to add: According to a report in Friday's South London Press Lambeth has allocated £300,000 to tackle this problem. A spokesperson for the Council encouraged local residents to report the potholes saying "Our crews will be working hard to repair damaged surfaces as quickly as possible, but we would ask that people help us by reporting potholes to us so that we can ensure they are placed onto our schedule for repair as soon as possible."